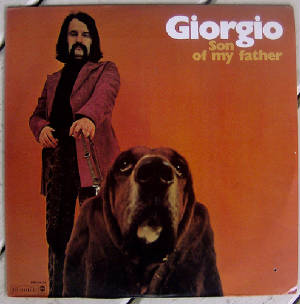 "Son Of My Father"- Giorgio (1972)
Often referred to as Giorgio's first proper album (although this is hard to clarify since he was so prolific in his early days, and had many albums released by several labels in several countries), this is the album that made Giorgio a star. It includes his smash hit "Son of My Father", which would be a big hit both in Europe and the United States. Later, the song would receive even more success when it was covered by the British band Chicory Tip. Also included is the brilliant pop song "Underdog", another big hit. By today's standards, this album certainly sounds dated, but that's not to say that it is unlistenable. In fact, it is still a very enjoyable recording. It is not extremely synthy like his later work (although many old synths can be heard throughout). It is often very Beatle-esque (especially on tracks like "Pauline" and "Watch Your Step"). The album ends with the song "Tears", a genius 2 and a half minute track that is simply the same 4 bars repeated over and over, however it eventually climaxes into a huge wall of sound. The cut would later be sampled to great effect by DJ Shadow. A great album from the early days of the electronic guru.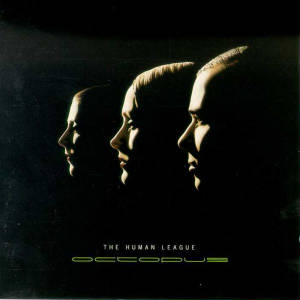 "Octopus"- The Human League (1995)
Overall, the 90s were not a kind period for The Human League. By this point, they had lost many of the fans they had won in the 80s, and the hits had all but dried up. Their previous album "Romantic?", released in 1990, sounded very out of step with the times, and failed to generate very much interest. Luckily, "Octopus" was a great return to form for the synthpop band. It contained hits such as "Tell Me When" and "Filling Up With Heaven", and it dripped from beginning to end with pure analogue juiciness. It also featured the wonderful ballad "One Man In My Heart", and the delightfully quirky instrumental "John Cleese; Is He Funny?". Several of the songs off the album were also remixed by many of the day's hottest DJs, giving the League the opportunity to make their way back into the dance clubs. The album overall has a very quirky, unique sound, and the vocals are great (check out Phil's lead on "Cruel Young Lover"). The lyrics are also great, especially on songs like "Words" and "These Are The Days". In the latter song, the band is obviously trying to shake their past: "Here's a song about living in the past/If it was so good, how come it didn't last?". Well said! A very strong outing from a great band.
"Esperanto"- Elektric Music (1994)
Elektric Music was a new project started by Karl Bartos, formerly of the electronic music godfathers Kraftwerk. Chances are if you like Kraftwerk, or synth/dance music in general, you would love this offering. And Bartos proves profusely on this effort that he does not need any help from his former bandmates, thank you very much. This is fresh, catchy, pure electronic pop. Things start out with the great track "TV" and just keep getting better and better. "Show Business" is a tight, infectious tune loaded with hooks. Indeed, it seems that a recurring topic on this disc is the media and show business in general. "Kissing The Machine" is another excellent track featuring none other than Andy McCluskey from OMD on lead vocals. It is an immaculate track. Overall, this CD is amazingly modern sounding (even to this day, despite being 15 years old). It is a perfect, precise celebration of the digital age and internet culture.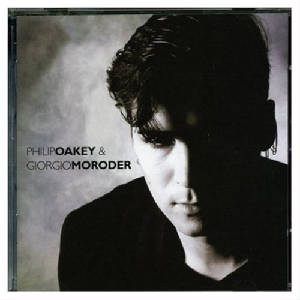 "Philip Oakey and Giorgio Moroder" (1985)

I'm not really sure how this one passed me by, considering it represents the pairing of two of my musical idols, but I actually did not hear this album until 1990, about five years after it was originally released. Of course, I was familiar with "Together In Electric Dreams", but the rest of the album was totally unknown to me. Well, I'm glad I did discover this better late than never, since it is such a great album. Call it synthpop, call it electro dance, call it whatever, to this day it still sounds great. The beats pound along like clockwork, and all the Giorgio trademarks are here: chugging basslines, unbelievably catchy synth melodies, and a tight production. Marry this to Philip Oakey's pure vocals and you have one for the ages. "Why Must the Show Go On" can still make me move, and "Valerie" is still so infectious. According to an interview Oakey did on the "Best of the Human League" DVD, this whole thing was recorded in a couple of days! I guess this was re-issued around the mid 90s with bonus tracks added (mostly remixes). I must pick that up someday!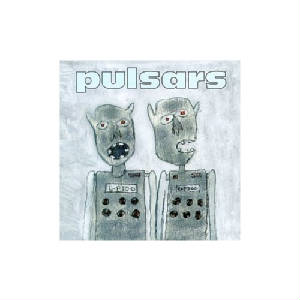 "Pulsars"- Pulsars (1997)

Ah, The Pulsars. Their story is becoming the stuff of legend. The story of a great band who went nowhere. Yet the true fans of this overlooked masterpiece know better: The Pulsars were awesome. I first heard about The Pulsars in an article in Spin magazine. They were described as purveyors of the "new New Wave", so immediately I was intrigued. These guys came out at a time when numerous bands were starting to mess around with synths again: Matthew Sweet, The Rentals, Weezer, Beck, etc. Anyway, this album is brilliant. It is the work of David and Harry Trumfio, two brothers who had an incredible knack for crafting crisp, upbeat, melodic pop songs. "Tunnel Song" is great, and "Owed To A Devil" will never leave your consciousness, complete with all its gorgeous horn stabs. "Silicon Teens" is pure computer pop, providing a clever nod to Daniel Miller's infamous side project. "My Pet Robot" is carefully measured and cool, while the closing track "Das Lifeboat" (featuring arrangements by the legendary Tony Visconti) is amazing. It really must be true that the best things never do last, for The Pulsars were a short lived yet refreshing blip on the pop music map. If you stumble across this one, definitely pick it up.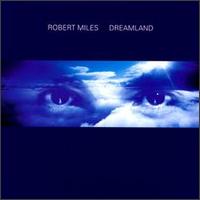 "Dreamland"- Robert Miles (1996)

Back around 96 and 97, everyone I knew seemed to be listening to Robert Miles. This guy seemed to come out of nowhere. I used to think "who the heck is this guy?!?!". But once I got familiar with his music, I began to understand why he was so popular. His album "Dreamland" is loaded from beginning to end with beautiful, memorable instrumental cuts. Almost every track follows the same formula: the main melody is always delivered with a piano featuring generous echo (one friend once referred to it as an "underwater piano", which I think is quite accurate), nightclub beats, and an old school FM synthesis bass sound. The melody is often very simple, and it is usually four bars which keeps repeating. The music is very sumptuous, cinematic and well produced. In hindsight, it's obvious that this well groomed sound was bound to be popular. Later albums wouldn't be nearly as popular, yet this one still stands as one for the ages. As a footnote, Miles would release a single around the same time as the "Dreamland" album called "One and One", which featured vocals by Maria Nayler. This single is charming and infectious, and maintains the classic sound established on "Dreamland".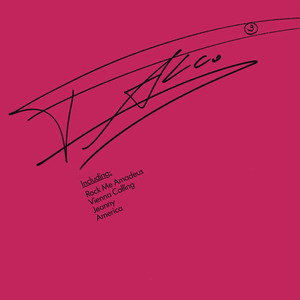 "Falco 3"- Falco (1985)

I'm sure many people are shocked and bewildered that I would choose "Falco 3" as a classic album. I recall that back when this was first released, the critics had a field day tearing it apart. It was often hailed as "campy", and referred to as "Euro cheese". However, when looked at under a modern light, and when listened to with a sense of humour, this album holds up amazingly well. It is melodic, quirky and tons of fun. Of course, this album features the major hit "Rock Me Amadeus" which I'm sure still gets plenty of play at retro nights all over the world. "America" is delivered with the zeal of an immigrant who just stepped off the boat. "Tango The Night" is hilarious, and begs one to think that Falco was either a tormented genius or completely off his rocker. "Munich Girls" is a very obvious re-working of "Looking For Love" by The Cars, and it sounds great. "Jeanny" is melodramatic beyond belief, and it is here that we can see that not only was Falco musically talented, but the man was an incredible actor, showman, and storyteller. "Vienna Calling" is flirtatious fun. Sadly, Falco died in a car accident in 1998. It is safe to say that his legacy will live on with this fun, quirky, smile-inducing album.
"Three Feet High and Rising"- De La Soul (1989)

This album stands as a dramatic turning point in hip hop/urban music. Before this disc, rap and hip hop were mostly concerned with ghettos, life in the inner city projects, crime, gangs, ho's and violence. Yet along came De La Soul, from the comfortable suburbs of Long Island, and they changed all of that. For the first time, rap was colorful and fun. There is a playful tone to this that is gleefully infectious. This is the sound of a bunch of young men throwing down some grooves and being highly creative and inventive. "Can U Keep A Secret" is hilarious, as is "Take It Off". "Me Myself and I" is a great, catchy number with a slight trace of pop. From beginning to end, this album is a joyful and upbeat ride. Later offerings from the group would prove to be less innocent, but no matter. This still stands as a truly classic album. Even if you're not a big fan of hip hop, this one will win you over.
"Number One In Heaven"- Sparks (1979)
This is a pivotal, ground-breaking album that paved the way for a movement that would later be dubbed "future pop". Brothers Ronald and Russell Mael had all ready been churning out glam and heavy metal bombast for almost a decade when they unleashed this album on a very unsuspecting audience. Teaming up with disco guru Giorgio Moroder, the result was a kinetic, frantic, supremely danceable album that was tailor made for the disco crowd. This album is loaded with cascades of treated synthesizer noise, tight beats and hyperactive grooves. "Beat The Clock" is infectious as hell, while "My Other Voice" sounds like it was recorded on a flying saucer. "Tryouts For The Human Race" could still make bodies move on a dancefloor, it is gloriously sprawling and epic in its scope. Sparks never quite made anything before or since that quite sounds like this. It still stands as a revolutionary masterpiece.