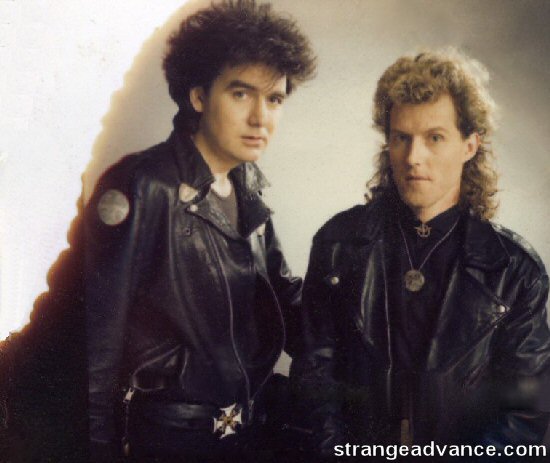 Arnott (on the left) and Kromm
Drew Arnott was one of the founding members of Strange Advance, a Canadian synthpop band from the 80s who would go on to have major success. Here in Canada, they scored with hits such as "We Run", "Worlds Away" and "She Controls Me". Success for the band would also come in numerous overseas countries, where their atmospheric, cinematic sound won them countless fans. They were nominated for a Juno for "Most Promising Group", and they worked with such legendary talent as Bryan Adams, Bob Rock and Bruce Fairbairn. Their hits can still be heard today on FM radio stations all over North America and worldwide.

Today Drew still keeps busy with numerous musical projects. I was very happy when he agreed to do an interview with me, since this band's creative output has had an enormous influence on me over the years.





1. Musically, what projects are you working on these days?

Right now I'm finishing a project with Andy Collins, a Vancouver singer/songwriter. We recorded some great guitar tracks on Friday with Christian Thor Valdson (Copyright/Mathew Good) and plan on going into the Armoury Studios to do the mix (which used to be owned by SA's producer Bruce Fairbairn). I'm also writing for myself which I haven't done (or felt like doing) in a while.

2. How do you approach the songwriting process? Do you start with chords? Lyrics? Melodies?

Worlds Away started with me playing 2 chords on the Jupiter 8. Other songs can start with a melody or a phrase. I have 200 cassette tapes with snatches of ideas. I keep meaning to listen to them!

3. Please tell us about how Strange Advance was formed. What led to the birth of this band?

Strange Advance was a continuation of my relationship with Darryl. We had a club band in Vancouver that was a lot of fun but not too popular. We played all our favourite British (mostly)pop songs as well as a few more adventurous tunes. We used to open our show with "Watcher Of The Skies" (Genesis). Darryl would wear blacklight eye makeup and a cape. Very daring...especially if you were playing a biker
bar in Surrey. Anyway, Darryl and I started hating each other and broke up. A few years later we got back together and started writing and recording demos. Darryl was playing with Bryan Adams at the time and gave him a tape. Bryan passed it on to Bruce Fairbairn and the rest was history.


4. Back in the 80s, Canada produced some very memorable synthpop bands(Strange Advance, Images in Vogue, Men Without Hats, Rational Youth, etc). Did you feel at the time that you were part of a movement? Or did you feel quite isolated from all the "rock and roll" artists?

We felt a little funny getting lumped into the "New Wave" category. Other bands did it better and we just did what we did.

5. What synthesizers did you use back in those days? What equipment do you use now?

In the beginning was the Synthi AKS and the Mellotron. Later, we added a Yamaha CS-80 and the Roland Jupiter 8. Lots of other synths. Those were my favourites though. These days it's mainly soft-synths and samplers. I work mainly in Logic but I miss not having racks of keyboards around.

6. I recall that back in the 80s, there was a bit of an apprehension towards electronics in music, especially in North America. Why do you think that electronic music has typically always been more readily accepted in Europe than it has been here in North America?

I think that America was the home of the electric guitar. That's what they knew and that's what they trusted.
Synths were strange devices played by weird guys from Germany. Not to be trusted!

7. Is there a particular Strange Advance song that you are especially proud of?

Some songs surprised me. Ones I thought would be great weren't and some developed much further than I anticipated. "Home Of The Brave" (although I haven't heard it in a while) had some great moments. Simon, who played lead guitar, was a total surprise. He was literally sweeping the floor in the studio when our assistant engineer mentioned that he was a talented guitarist. We had him come in and play on the track and were blown away.

8. How did it feel hearing songs like "We Run" on the radio for the first time? I can imagine the warm reception it received must have felt great!

It would have been great but I didn't listen to the radio! As a matter of fact, I don't even have a stereo (no iPod either) at home. I go to the studio, have fun with music, then go home. Silence....aahh!

9. What music were you listening to back then, and what do you like to listen to now?

I was just reading the latest 'Q' magazine. It lists the top 100 songs of all time. I think Bowie's "Life On Mars" was number 3. I love that song. These days it varies. I still love pop music and a lot of the times it's still British (Keane, Franz Ferdinand, Coldplay, Goldfrapp, Travis etc.) but who can argue with Arcade Fire, Stars, the Killers etc?

10. You've recorded with many well known artists, as well as performing live with many well known acts. Was there one collaborator (or performance)in particular that really left an impression on you?

We had one of the world's greatest guitarists come into the studio. Alan Holdsworth played on 2 of our songs. Listening to him play on something I wrote was very moving for me.


11. As well as writing and playing music, you also produce. In your opinion, what do you think makes a great producer?

It's been said before: Pick a fabulous band playing incredible songs. Then stand back and accept the
praise heaped on you! Personally, I like a producer who is a creative collaborator with the artist. Some artists only need someone to push 'record' and convince them they are great. My favourite music couldn't have happened without a melding of talents. Gabriel's first solo album with
Bob Ezrin, Ken Scott's work with Bowie (not to mention Ronson's contributions), Visconti and T. Rex...

12. What other interests do you have other than music?

I love film. I keep threatening to finish a script or two.

13. If you could give any advice to any up and coming bands who want to "make it", what advice would you give them?

I might be the worst person to ask. Hmmm...
Well, my version of "making it" is having fun. If you are having fun, keep doing it. Rich or poor, you'll die with a smile on your face.